This is another form of Angel Readings. Using Angel Oracle cards I tune into the cards with the love and support of the Angels to brings forward answers to your questions and messages for your own personal growth and development.
Are these Tarot card? The answer is NO.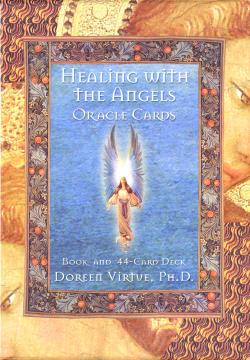 Oracle cards have been in existence for over 200 years. They are an ancient and time honored way of looking for answers and meaning of life. The most popular deck is the Lenormand Oracle cards. The Lenormand deck originated in the 19th century in Europe.
Oracle card readings are similar to Tarot in that they are both used for the same purpose – readings, exploring oneself and divining the future. However their structure is different. Tarot have Major and Minor arcana whereas Oracles cards have no set structure.
Angel cards are a popular form of Oracle cards. Using Angel cards, the client will ask a question, select a number of cards from the deck where then I create a spread with the selected cards. Then by connecting with the cards and I intuitively read what messages coming forward. These messages will answer the question asked and also will answer some unasked questions that might be in your mind.
The sessions for Angel Oracle Card readings can be held in person or via Skype.
A session can be booked in the following time increments and prices will vary accordingly
* For prices in other currencies please contact me directly*